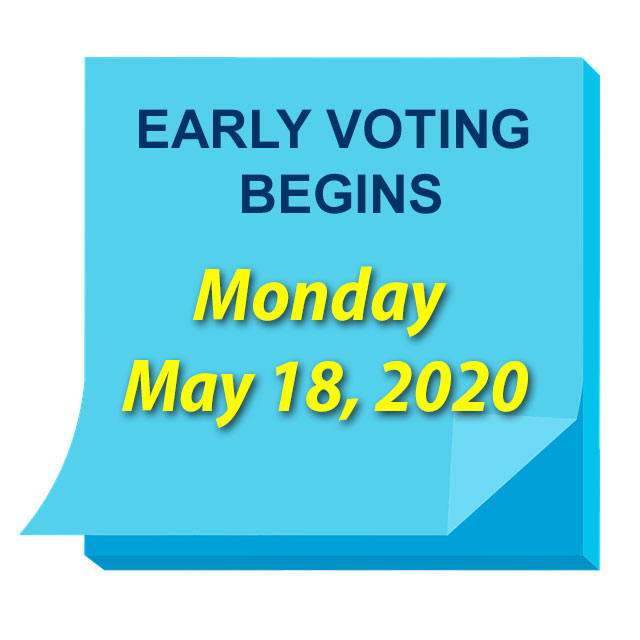 Early voting begins tomorrow, May 18, 2020.  There are several ways to vote:
Absentee Ballot
Due to the COVID-19 virus, everybody is urged to vote by absentee ballot.  You should have received an application for an absentee ballot, but if you have not, you can apply for one here.   Gwinnett residents are starting to receive absentee ballots. If you have applied for one and have not received it yet, you can check your status here. You must enter your information to get to the voter page.
Are you new to absentee voting and find the instructions unclear and are not sure how to fill out the ballot.  Here is a useful video by my colleague Georgia State Representative Donna McLeod.
Early voting In-Person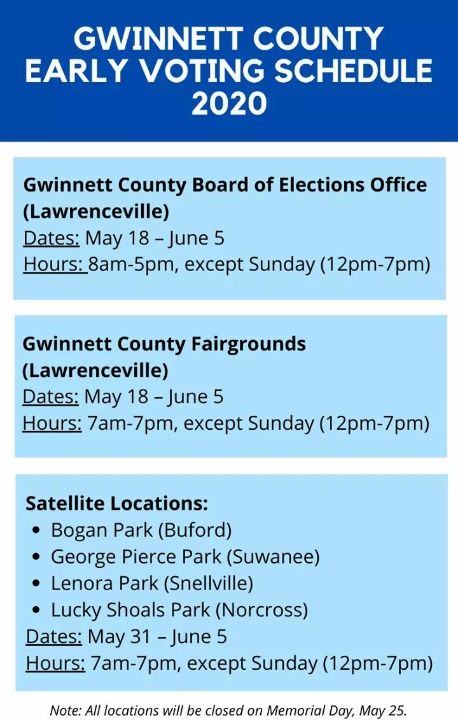 Gwinnett Board of Elections Office
455 Grayson Hwy, Lawrenceville, GA 30046
Gwinnett County Fairgrounds
2405 Sugarloaf Pkwy, Lawrenceville, GA 30045
Bogan Park
2723 N Bogan Rd NE, Buford, GA 30519
George Pierce Park
55 Buford Hwy NE, Suwanee, GA 30024
Lenora Park
4515 Lenora Church Rd, Snellville, GA 30039
Luck Shoals Park
4651 Britt Rd, Norcross, GA 30093
For those of you who have decided to vote by absentee ballot, there will be ballot drop-off boxes at all of the above locations in addition to the ones below:
•    Dacula Park –   205 Dacula Rd, Dacula, GA 30019
•    Mountain Park Activity Center –  1063 Rockbridge Rd SW, Stone Mountain, GA 30087
•    Shorty Howell Park – 2750 Pleasant Hill Rd, Duluth, GA 30096
Election Day
On election day, voting will take place at your specified voting precinct. You can find your voting precinct on your MVP page. If you would like to vote by absentee on Election Day and have your absentee ballot, you can turn it in to an absentee ballot dropbox on Election Day. If you requested an absentee ballot but would prefer to vote in person, on the voting machines, make sure to bring your absentee ballot with you to the polling precinct.