Early voting will start soon!
Early voting for the June 9 primary begins on May 18, 2020  The Gwinnett County Board of Elections has changed the early voting locations so voters can practice social distancing if they choose to vote in person.
Even if you voted in March, you need to participate in this election.  This election is for state, congressional and local candidates, plus presidential candidates if you did not vote in March.  If you voted in March your ballot will only include state, local and congressional candidates; no presidential candidates.  If you did not vote in March, your ballot will include the state, local, congressional candidates and the presidential candidates.
Here is a list of the locations and times.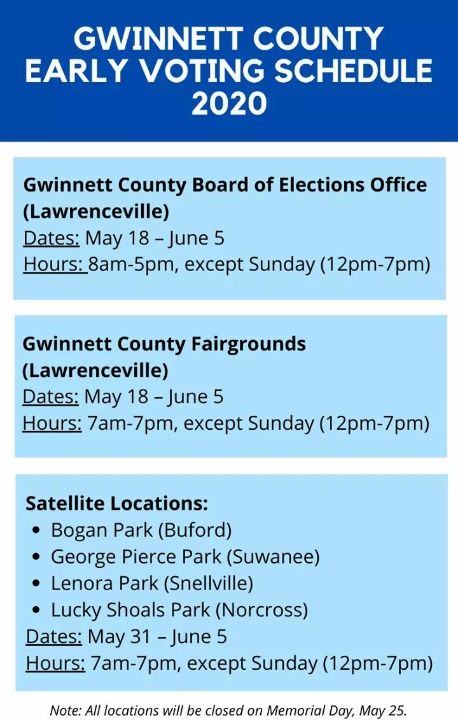 Here are the early voting location addresses.
Gwinnett Board of Elections Office
455 Grayson Hwy, Lawrenceville, GA 30046
Gwinnett County Fairgrounds
2405 Sugarloaf Pkwy, Lawrenceville, GA 30045
Bogan Park
2723 N Bogan Rd NE, Buford, GA 30519
George Pierce Park
55 Buford Hwy NE, Suwanee, GA 30024
Lenora Park
4515 Lenora Church Rd, Snellville, GA 30039
Luck Shoals Park
4651 Britt Rd, Norcross, GA 30093
For those of you who have decided to vote by absentee ballot, there will be ballot drop-off boxes at all of the above locations in addition to the ones below:
•    Dacula Park –   205 Dacula Rd, Dacula, GA 30019
•    Mountain Park Activity Center –  1063 Rockbridge Rd SW, Stone Mountain, GA 30087
•    Shorty Howell Park – 2750 Pleasant Hill Rd, Duluth, GA 30096
I still urge everybody to vote by absentee ballot so you can vote in the safety of your own home. To do so, you must send in an application for the ballot which you can obtain HERE.
One last thing.  Monday May 11, 2020 is the LAST day you can register to be eligible to vote in the June 2020 primary.  If you are not registered or know somebody who is not registered to vote, online registration is available HERE.