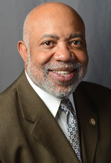 The 2015 Georgia State Assembly session will start in the beginning of January.  In preparation, I and State Rep. Tyrone Brooks (D-Atlanta), have prefiled a bill which, if passed, would increase the state's minimum wage to $15 per hour.
Our bill, House Bill 8, provides for annual minimum wage increases to match the rising cost of living and would eliminate various eligibility exemptions from the minimum wage law.
I don't feel anybody can survive on the current minimum wage of $5.15 an hour.  In fact, $15 an hour is still almost a poverty wage. At $15, a worker would only gross approximately $31,000 a year and net $20,000 or less annually.
I know I have the support of my fellow Democrats for this bill.   The big challenge will be convincing the Republicans to support the increase.  In all honesty, could any of them live on that wage?