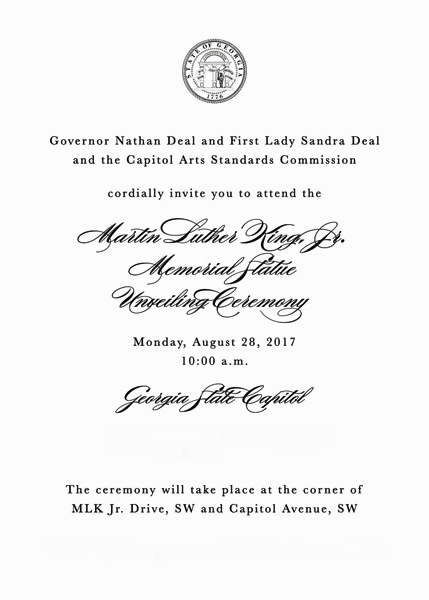 Gov. Nathan Deal will be joined by members of the King family, Atlanta Mayor Kasim Reed, Rep.  Calvin Smyre, Capitol Arts Standards Commission members and other dignitaries to unveil the Dr. Martin Luther King Jr. statue at the Georgia State Capitol on Monday, Aug. 28, at 10 a.m. The event is open to the public and seating will be available on a first-come, first-served basis.
• Gov. Nathan Deal
• First Lady Sandra Deal
• King family members
• Atlanta Mayor Kasim Reed
• Rep. Calvin Smyre,
• Chairman of the Dr. Martin Luther King Memorial Statue Tribute Committee Capitol Arts NG:
Monday, Aug. 28, at 10 a.m.
State Capitol Grounds
Intersection of Martin Luther King Jr. Drive and Capitol Avenue
For security purposes, only credentialed media will be permitted into the staging area at 9:30 a.m. All others are welcome to be seated with the general public.
Prior to the event, a livestream link will be made available for educators and the general public. A recording of the ceremony will be made available at the conclusion of the event.
See the map and information below regarding transportation and parking.
There will be street closures on Capitol Avenue from Memorial Drive to Martin Luther King Jr. Drive, and on Mitchell Street from Washington Street to Capitol Avenue from 7 a.m. to 1 p.m. Westbound traffic on Martin Luther King Jr. Drive will be detoured onto Jesse Hill Jr. Drive from 9:45 a.m. to 11:30 a.m.
Because parking will be limited, the general public is encouraged to ride MARTA to the Georgia State MARTA station. The station is a short walk on Piedmont Avenue to the unveiling location.
The Georgia Building Authority lot located at 445 Capitol Ave. is available for bus parking.