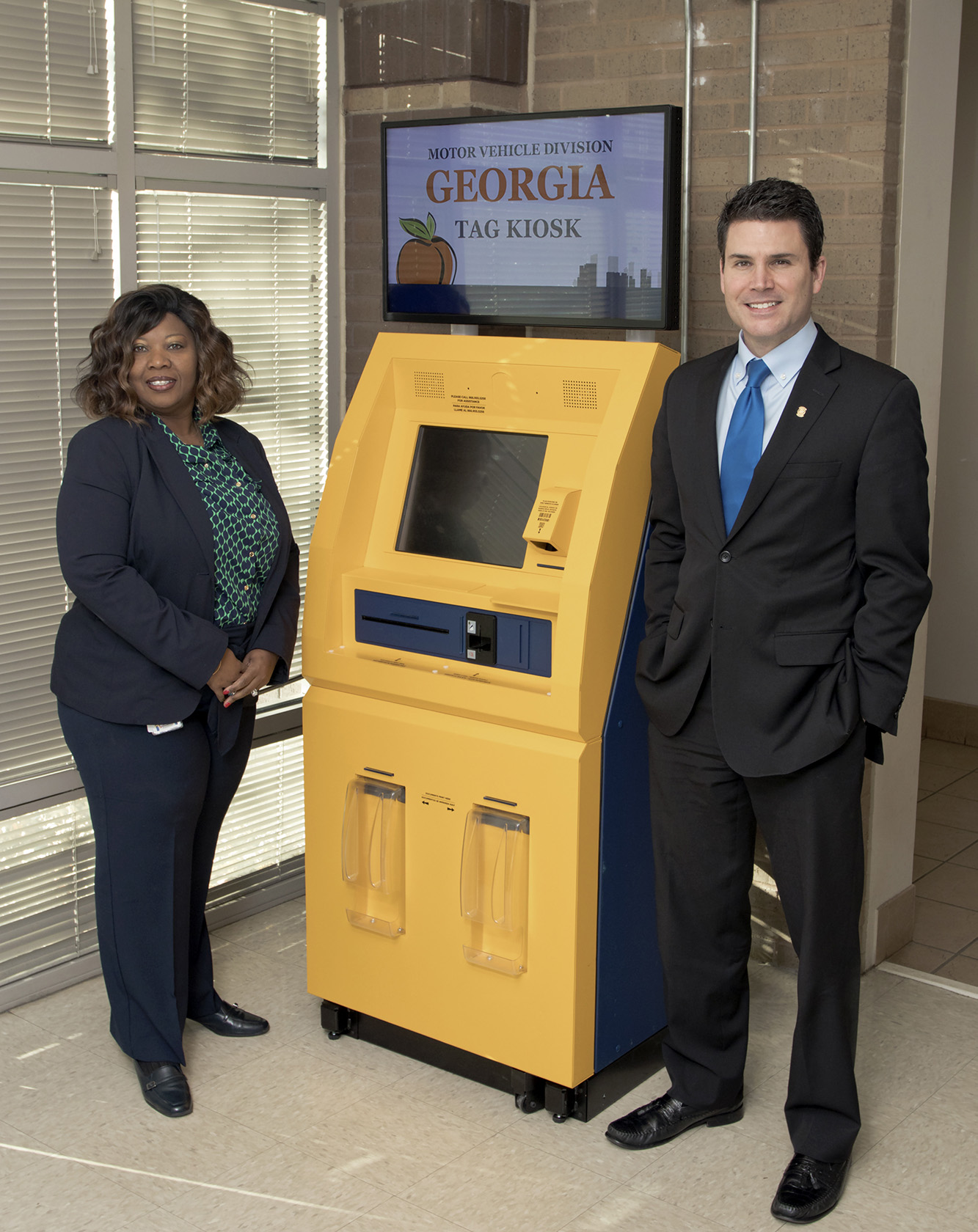 Gwinnett Tax Commissioner Announces New After-Hours
Self-Service Kiosks for Tag Renewal
FOR IMMEDIATE RELEASE
(Lawrenceville, Ga. Jan. 25, 2018) Tax Commissioner Richard Steele announces the addition of two new self-service kiosks for citizens to renew their tags nights and weekends. The kiosks are located at the Lawrenceville tag office, 750 South Perry St., and the North Gwinnett tag office, 2735 Mall of Georgia Blvd., in Buford.
Customers will be able to renew their vehicle registrations and immediately receive current decals for their license plates. Credit and debit cards accepted are Visa, MasterCard, Discover and American Express. Processing fees apply and are added to the total due.
In addition to the two new kiosks, Gwinnett citizens can also use self-service kiosks located in Kroger stores in neighboring counties, including DeKalb, Walton, Hall, Clayton and Fulton. For Kroger locations, visit dor.georgia.gov/mvd.
"I am constantly looking for ways to make tag renewal more convenient for Gwinnett taxpayers. The after-hours kiosks will offer a new option in addition to paying online, mailing in payment or visiting a tag office." explained Tax Commissioner Steele. "We are also looking forward to adding additional kiosks in other county locations in the future."
To renew your tag at a kiosk, you must have a valid Georgia driver's license, and your address must be correct on your renewal notice. Your proof of liability insurance must be transmitted to the state system, and if applicable, you must have a valid emission inspection on file.
The kiosk located in the entrance foyer at the North Gwinnett tag office is available 24/7. The kiosk in Lawrenceville is available 7 a.m. – 7 p.m. Monday – Friday, and 8 a.m. – 5 p.m. on Saturdays.
More information is available at GwinnettTaxCommissioner.com or email tag@GwinnettCounty.com.
The Tax Commissioner of Gwinnett County is a constitutionally-elected official responsible for billing and collection of property taxes and for administering homestead exemptions. Serving also as an agent for the State of Georgia, the Tax Commissioner registers and titles motor vehicles and collects all associated revenue. Learn more at www.GwinnettTaxCommissioner.com.
##