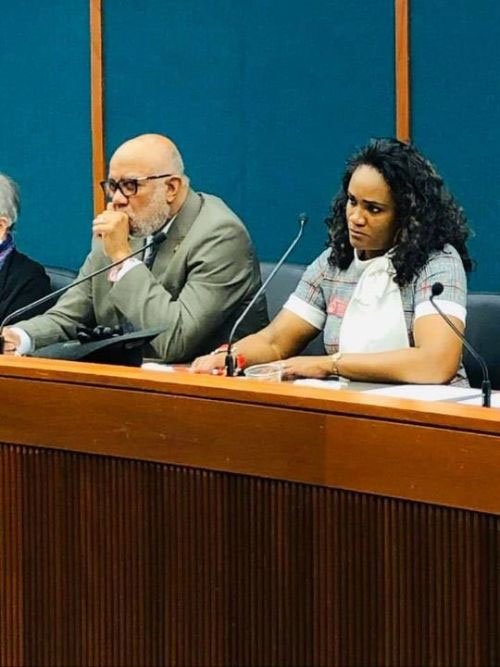 State Representative Donna McLeod (D - 105 ) and me listening to a budget presentation.
ABOUT THE BUDGET
Our biggest responsibility as legislators is to pass a budget. This task has been complicated by the fact the Governor Kemp has asked for further cuts in a budget that has already been cut, along with revenues. In fact, the task has become so difficult that the legislature has adjourned until February 18, so we can develop a budgetary plan that will work for all Georgians
The cuts are bad for Georgians, affect all areas of state spending and will eventually hurt the lives and health of everybody. Here are a few of the areas that will be affected. 
EDUCATION
Republicans are going back to under funding education. This budget cuts $12.5 million from the Georgia Department of Education which threatens K-12 career and technical education programs, threatens services for students with emotional or behavioral disorders, and defunds programs to help struggling schools.  In addition, the budget removes over $2 million from state schools for the deaf and blind. This limits services even for those students who cannot get help locally.
PUBLIC HEALTH
The budget slashes more than $4.3 million from the Department of Community Health programs, including funding for the Rural Health Systems Innovation Center, Morehouse and Mercer medical schools, and the Georgia Drug and Narcotics Agency.  These cuts also include more than $26 million to child and adolescent mental health services
AGRICULTURE
Governor Kemp's budget cuts $7.6 million from agricultural experiment stations and the Cooperative Extension Service, which are critical programs to serve farmers through natural disasters, climate change, and trade wars. The budget removes 28 positions from the Department of Agriculture, including food safety and meat safety inspectors, putting both public health and Georgia's biggest industry is at risk.
With Governor Kemp's proposed budget, how are rural areas going to recruit doctors?  How are public health clinics around the state going to serve the people who need them?
The Republicans want to use Medicaid Waivers instead of doing Medicaid Expansion even though waivers will cost $200 million more.  How is that fiscally responsible?
Clearly, this budget will leave Georgians sicker, hungrier, poorer and uneducated. Governor Kemp and his Republicans are telling us that Georgian's lives and health aren't important. I disagree and I promise you I will fight these cuts with every breath.