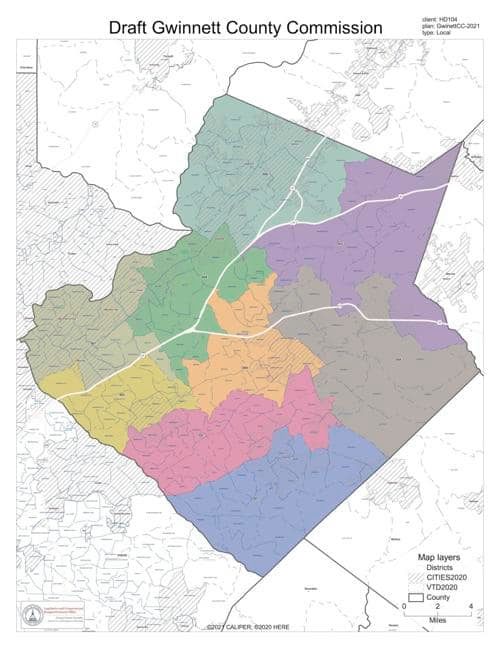 The Georgia Legislature convened a special session this week to work out new legislative maps for Congress and state house and senate districts.
We were promptly blindsided by Gwinnett State Senator Clinton Dixon, the Governors Floor Leader  who introduced two bills that would seriously alter the makeup of the school board and the Board of Commissioners..
SB 5 EX would make the Gwinnett School Board non-partisan as well as take on the task of redistricting, circumventing the plan the Board has already set in motion to accommodate our changes in population.  SB 6 EX, creates five  new Board of Election districts for Gwinnett and restricts the Board of Commission Chairperson's vote to tie breakers.
This legislation was introduced without consulting any of Gwinnett's majority Democratic legislative delegation and without input from Gwinnett citizens.  It is also a bill that only concerns Gwinnett County and not any other county in this state.  We are being singled out. This is wrong and unethical and obvious back room dealing
This is also a terrible fit for the citizens of Gwinnett because we will be paying the bill for everything.
Where is the money going to come from to pay the salaries for the new  commissioners and their staff and expenses for these five new commissioners?
Where is the money going to come from to build new office space for these five new commissioners at the Gwinnett Justice and Administration Center? 
I will tell you where it will come from. Your pocket!  This is another example of the Republicans being fiscally irresponsible.  And in this case, it amounts to a state mandate without state money behind it. Whatever happened to local control?
I urge you to call Lt. Governor Geoff Duncan at 404-656-5030 and Speaker David Ralston at (404) 656-5020 to tell them you are a Gwinnett resident who opposes SB-5EX and SB-6EX and ask them to prevent both bills from coming to the floor for a vote.
This is wrong and I pledge to fight against it!