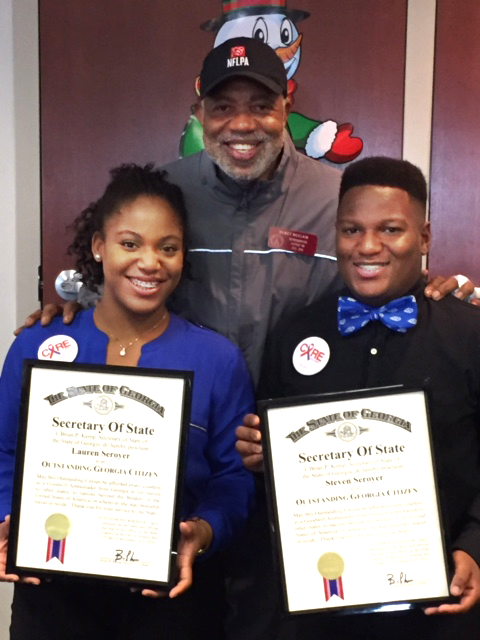 Gwinnett County Twins receive the Outstanding 
Georgia Citizens Award
(Lawrenceville, Ga., Dec. 6, 2016) – Two Gwinnett County teens will be honored for going above and beyond in their dedication to the well-being of the state. Lauren and Steven Grant Seroyer will be presented with the Outstanding Georgia Citizens Award by District 100 State House Representative Dewey McClain. The presentation will be at 11 a.m. on Saturday, Dec. 10 at Shorty Howell Park Activity Building. The twins attend Peachtree Ridge High School and have created the C.A.R.E (Community Assistance Resource Effort) Closet after a conversation with a classmate who was hungry and had no access to food at home. The C.A.R.E Closet is a confidential school-based food pantry sponsored by various high school clubs, local businesses and non-profit organizations to provide their peers and community members with a basic need that is essential for their academic success.
Lauren worked with counselors to make sure the closet is confidential, so no child would have to be embarrassed to ask for help. The twins found support from all the classmates and different clubs in school. With the success of the C.A.R.E Closet, Lauren applied and was one of two Spark Award recipients from the local chapter of the United Way. The organization was awarded $25,000 to help launch this program in other schools in the Gwinnett County. State House Representative Dewey McClain said, "I am very proud of the accomplishments of the twins, they are role models and citizens we like to have in our community." Representative Dewey McClain is also a board member of the Gwinnett Parks Foundation.
###
Gwinnett County Parks and Recreation, recently named the number one agency in the state by the Georgia Recreation and Park Association, provides high quality, broad-based parks, facilities, programs and services creating a sense of community, enabling a safe and secure environment, and enhancing Gwinnett's quality of life.
Play * Live * Learn