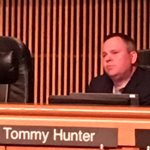 Join us at the Commission meeting on Jan 24th.  And sign the petition
Last Tuesday, a large group of Gwinnett citizens spoke at the Gwinnett County Commission meeting concerning Commissioner Hunter's uncalled for remarks about John Lewis and the name calling of almost 50% of his constituents. Each person who spoke called for Mr. Hunter's resignation. But he has refused to resign.
It is inappropriate to call a sitting Congressman a "racist pig" and it is further inappropriate to call 50% of your own constituents "libtards", "demon rats", and idiots. If you publicly have no respect for those you represent, you need to step down.
We need to keep the pressure on. I urge you to sign this petition which was created by some of my constituents involved with Delta Sigma Theta. They plan to share the latest petition count at the next Board of Commission meeting scheduled on Tuesday January 24th.
It is important that everybody speaks up to tell offending public officials that this behavior is unacceptable.
Always 100,
Dewey McClain
GA House of Representatives
District 100