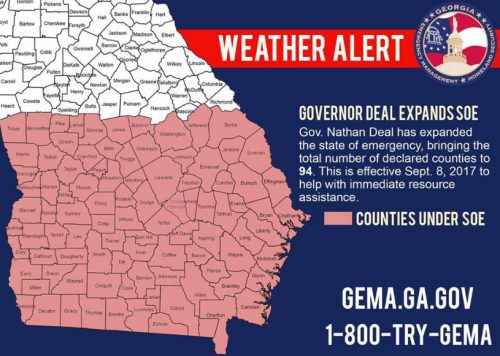 I wanted to provide you with another quick update on Georgia Power's response to Hurricane Irma.
After weathering one of the largest storms to hit our state, Georgia Power continued with restoration efforts today.  Power outages associated with Hurricane Irma impacted nearly 1 million of our customers all across Georgia. As of 7 p.m. Tuesday, we have restored service to approximately half of those customers.  Currently there are about 470,000 customers without power in Georgia.  The Metro Atlanta area has seen similar gains in restoration today, reducing the number of outages to around 200,000.  We plan to move additional workers into the area tonight, and will continue to assess and make repairs based on our assessments. tomorrow.
We understand that many of your constituents are frustrated that their power has not yet been restored.  The damage and outages to our system are widespread across the state , and in many cases the damage is severe.  This is an unprecedented event for our state, and resources are stretched thin as utilities respond to two major storms that not only impacted our state, but also devastated parts of Texas and all of the state of Florida.  While our crews are working around the clock to restore service, customers should plan ahead for extended outages that may last for days, and in some cases weeks due to the vast damage from the storm.
As a reminder, below are some tools available to you and your constituents to communicate with Georgia Power:
•        Outage Alerts – Subscribe to the free Georgia Power Outage Alert service to receive personalized notifications and updates via text message.
•        Outage & Storm Center – Available at www.georgiapower.com/storm, customers can visit this site to sign up for Outage Alerts, report and check the status of outages, and access useful safety tips and information. Customers can report and check the status of an outage 24 hours a day by contacting Georgia Power at 888-891-0938.
•        Outage Map – Housed within the Outage & Storm Center, Georgia Power's interactive Outage Map provides near real-time information, allowing users to see where outages are occurring across the state and track estimated restoration times.
•        Georgia Power Mobile App – Download the Georgia Power mobile app for Apple and Android devices to access storm and outage information on the go.
•        @GeorgiaPower on Twitter – Follow @GeorgiaPower on Twitter for storm tips, outage updates, customer service and more.
Please continue to stay safe during this historic storm event.  As always please feel free to contact me if you have any questions or concerns.
William E. Edwards
External Affairs Manager