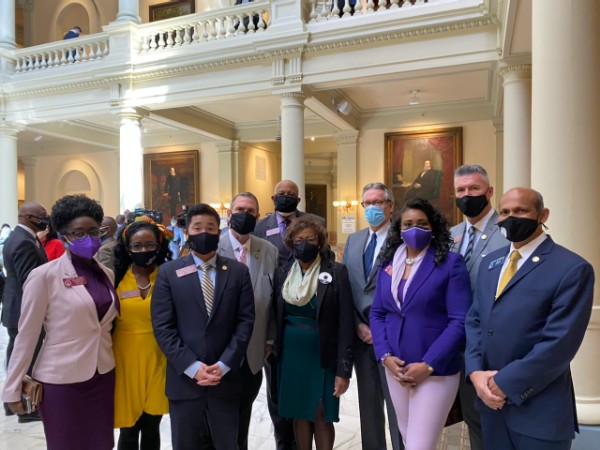 Bills passed on Crossover Day
Monday, March 8 2021,  was Crossover day at the Gold Dome. This is the big day when all the bills passed in the Georgia House of Representatives are sent to the Georgia Senate. The Georgia Senate also sends their bills to the Georgia House. Any bill that has not "crossed over" from one House to the next may not get passed this year.
I will present the good bills that passed the House of Representatives first. I voted for all of these:
• House Bill 586, called the "Georgia Economic Recovery Act of 2021" which extends sales tax exemptions for certain small businesses.
• House Bill 587, called the "Georgia Economic Renewal Act of 2021" which gives tax credits to manufacturers of medical equipment so they will locate and create jobs in Georgia. Also, there is an additional tax credit to attract high-impact aerospace defense projects to Georgia.
• House Resolution 185 which reauthorizes the House Rural Development Council. This looks for ways to bring jobs to rural Georgia.
• House Bill 32 which aims to recruit and retain 1,000 Georgia teachers to 100 extremely rural or low-performing schools by offering a refundable income tax credit of $3,000 for certified teachers for up to five years.
• House Bill 479 Proposes to repeal Georgia's Citizens arrest law.
Now for the difficult news.
The budget
The fiscal budget, HB 81, passed but I could not vote for it because it did not restore the previous funding cuts to education and other programs that help Georgians.
Voting rights
The absolute worst bill of this session is House Bill 531, which is the voter suppression bill. This bill shortens early voting times, removes no excuse absentee voting and limits ballot drop boxes. The Republicans are so angry about the results of last November's election that rather than change their policies to appeal to voters, they have decided to limit the voters. Unfortunately, this bill passed along party lines no Democrat voted for this bill. In the Georgia Senate, SB 241 is their voter suppression bill we must watch out for, a really bad bill . I will always support upholding voting rights and integrity; do hope you will stand with me.
The Georgia House will now consider all the Georgia Senate bills until the end of session. Please contact me with your thoughts and concerns about legislation or anything going on in Georgia.